Smile Makeovers
Evaluate My Smile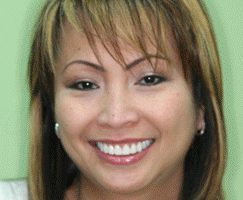 Lumineers® by Cerinate Smile Evaluation:
A Quiz to Obtain the Smile You've Always Wanted – The No Pain Solution! You don't even need an Asprin.
THE MOST SIGNIFICANT COSMETIC ADVANCEMENT… EVER!



SMILE to show your teeth. Take the time to observe your teeth in the mirror, carefully and think about:


• Do you like the appearance of your teeth?
• Are your teeth straight?
• Do you have spaces that you don't like?
• Are your teeth discolored, or yellowish?
• Do you like the shape of your teeth?
• Are your teeth chipped? protruding? hidden?
• Are your teeth wearing on the biting surfaces?
• Are there old fillings or dental work you don't like?
• How would you like your teeth to look?
You no longer have to hide your smile… and you don't have to endure lengthy, uncomfortable procedures to get the smile you enjoy sharing with the world. LUMINEERS® offer:
• Painless procedure
• Sensitivity-free results
• Permanently white results that last
• Quick and easy process
Your smile is one of the easiest ways to improve your appearance. Contact us for a consultation to see how Lumineers can improve your smile.
Cleanings & Prevention
Dental Exams & Cleanings
Dental X-Rays
Fluoride Treatment
Sealants
Natural-Colored Fillings
Children's Dentistry
Cosmetic Dentistry
ZOOM!® ONE-HOUR WHITENING
INVISALIGN®
LUMINEERS™
Porcelain Veneers
Composite Fillings
Porcelain Crowns (Caps)
Porcelain Inlays
Porcelain Onlays
Porcelain Fixed Bridges
Restorations
Dental Implants
Inlay Restorations
Onlay Restorations
Composite Fillings
Metal-Free Crowns (Caps)
Dentures & Partial Dentures
Fixed Bridges
Root Canal Therapy
How Can We Help You?
For more information or to book an appointment call or email.